One thing every backyard barbecue needs is a cold drink that pairs perfectly with whatever is coming off the grill or out of the smoker. But what wine is best to pair with the different sauces, rubs and seasonings for all those yummy foods you're cooking on the barbie? This guide will get you through the grilling season.
Tangy
Eastern North Carolina pulled pork with vinegar-based sauce, Memphis-style barbecue sauce with mustard and vinegar and South Carolina mustard sauces all have sharp edges that pair best with fruity reds, especially those with a little fizz. Try these barbecue dishes with medium-sweet, fruit-bursting Duplin Pelican Red and sparkling, slightly peachy Sweet Poppy. If you prefer a blush, choose Goin' Coastal with hints of citrus and fresh fruit.
Hot
If you love to scorch your taste buds with Carolina Reaper pepper sauces, load your carne asada with jalapenos and add habanero to your Alabama sauce, sweet wine is your friend at cookouts. Soft-dry white wines like Duplin Moonlight Bliss balance and compliment heat. Sweeter Duplin wines like Sweet Caroline or Cotton Candy Blueberry coat your burning tongue to help cool the burn. Whichever wine you choose, drink it ice cold when you're eating fiery sauces.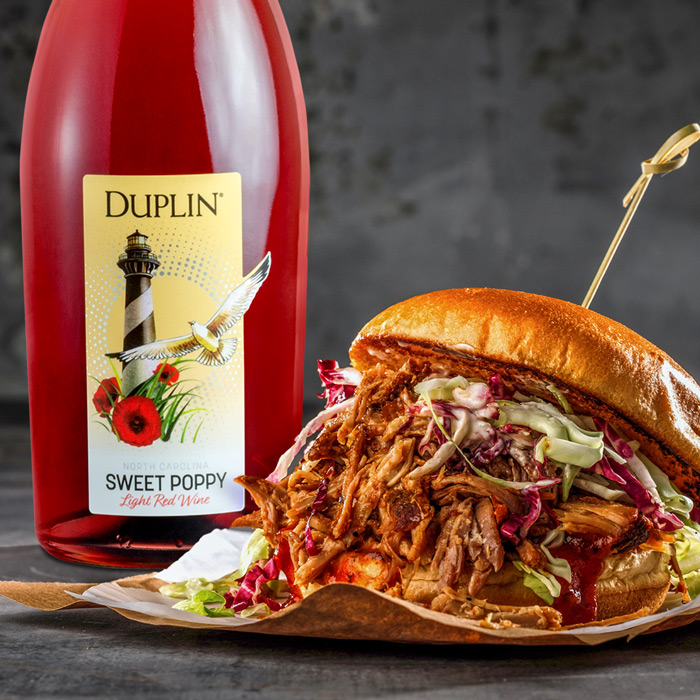 Sweet
Bourbon Brown Sugar Glaze; Kansas City barbecue sauces with both sugar and molasses; and thick tomato-based barbecue sauces call for equally sweet wines. Choose a wine that is near equal in sweetness to your favorite sweet barbecue sauces. Try smooth, fruity Duplin Magnolia, a medium-sweet white with a crisp finish; pleasantly sweet Hatteras Red; or the pure fruity Southern sweetness of Cotton Candy Peach.
Spicy
Jerk chicken, tandoori chicken, Korean bulgogi and dry rubs full of paprika, garlic, thyme, cumin, chili powder and dry mustard offer a complex harmony of spices that call for an equally interesting, sweet wine like complex Duplin Sunset Red or mellow, fruity Cool blush. Also consider Duplin Bald Head Red, a lightly sweet blush with floral notes.
Smoky
That tender brisket you pull from the smoker or those burgers you left on the grill with the lid down just long enough are dreamy with soft-dry Duplin Burgundy's hint of fruit. For smoked pork, chicken or fish, try a lighter, sweet white such as smooth, elegantly fruity Midnight Magnolia with a crisp finish that cleanses the palate after each smokey bite.
Simply Seasoned
There's absolutely nothing wrong with unfussy grilled tuna steaks seasoned with a sprinkling of fresh herbs or a simple salt-and-pepper T-bone cooked just right over hot coals. Maybe you're doing a mixed vegetable grill, no meat. Subtle grill flavors call for the refreshing, crystal clear sweetness of Duplin Cotton Candy Lime white wine or the not-too-dry, not-too-sweet perfection of Moonlight Bliss white wine. Goin' Coastal blush with hints of citrus and fresh fruit is another option. Velvety sweet Carolina Red's clean finish sets you up for each bite of perfectly grilled seafood.