The Duplin At Home Christmas Show Wine Tasting Kit is a virtual holiday extravaganza that pairs a special at-home Duplin wine tasting kit with unlimited, on-demand access to all the music, songs and glittering costumes of The Carolina Opry Christmas Special. The show is one of North Myrtle Beach's top attractions! This year, stream The Carolina Opry Christmas Special at home and watch while sipping Duplin wines.
Start your virtual event with the Duplin wine tasting portion of this festive package. Follow along with Duplin master bartender, Frank, on the video above, as he guides you through six sips. They include all of Duplin's beloved Christmas wines -- new Muscadine Kisses blush, berry-spiced Christmas Wine (red) and fruity smooth Naughty & Nice white -- as well as two other wines and our Jolly Juice Sweetzer wine slushie. We've also tucked in Duplin Gourmet Muscadine Pineapple Habanero Salsa, our popular homemade crackers and the recipe for Duplin's famous Muscadine Pineapple Habanero cheese dip.
Take special note of the tasting sheet that comes inside this kit!
The tasting sheet includes a code giving you unlimited, on-demand access to The Carolina Opry Christmas Special from now thru January 14, 2021! Watch as often as you'd like. Just visit TheCarolinaOpry.com/Duplin for easy redemption instructions.
Better known as The Christmas Show of the South, this highly acclaimed, family-friendly musical was billed the "Top Attraction in Myrtle Beach" by CNBC. This year's lineup is better than ever with new cast members, Delvin Choice, seen on NBC's "The Voice;" hot up-and-comer Rory John Zak; and Nashville recording artist Brad Long. A full orchestra and bonus seasonal brass section joins them and 35 of the nation's most talented vocalists, musicians and dancers in show-stopper costumes. There's even a real horse-drawn sleigh gliding through the snow!
RETAIL PRICE: $104.93
FOR A LIMITED TIME:
$99.95
---
How to taste wine like a Duplin pro
See. Swirl. Sniff. Sip. Savor. Use this 5-step system for each wine on the Christmas At Home Tasting Score Card included in your kit. Here's how.
See: First, hold a wine in a glass up to a light and look at the color. It will allude to the variety of grape used and what the wine will taste like. Is it Scuppernong? Nobel? Carlos? Another? Color also indicates flavor. A bright, saturated hue often means more intense flavor. See if you can guess the grape and flavor before you sip.
Swirl: Consider the wine's body next. Swirl the wine in your glass to determine if it is light or heavy. You're looking for the viscous streaks running down the side of the glass after you swirl. They're called "legs." Sweeter wines will leave streaks that cling or move slowly. That means a heavier body.
Sniff: After you swirl, really dip your nose into the glass and inhale the aroma, what wine pros call the "bouquet" or "nose." Pausing to experience the bouquet heightens your senses and anticipation of the first sip. Think about what you are smelling. Is it fruity? What kind of fruit? Berries? Ripe banana? Musky honeydew melon? Pure grape? Are you getting floral notes like honeysuckle or gardenia? See if you pick up unexpected smells like pine or fall leaves. Describe the bouquet and discuss it.
Sip: Take a sip slightly larger than normal and hold the wine in your mouth for 3-5 seconds. Let the wine coat the tongue and the inside of your mouth. Wine releases more flavors as it warms on your taste buds. Before swallowing, purse your lips and breathe in gently, allowing the air to travel across the wine in your mouth to get the full flavor profile.
Do the flavors you're experiencing match the wine's nose? When and where are you tasting those flavors? Are you getting, say, banana bread on the first sip and then astringency or acidity at the end, which is called "the finish." Where do flavors hit you? On the tongue? On the side of your mouth.
Think back to the wine's body. Compare the texture of different wines, how they feel in your mouth. Light as water or heavier, like the texture of sweet iced tea? If you're sampling a sparkling wine, do the bubbles feel fine or medium in size. Compare your experience to the wine's description and see if it matches.
Savor: As you continue sipping, note how the sensation is slightly different from what you experienced when the wine was resting in your mouth on the first sip. This is the point when you taste and feel the wine's finish. As you continue tasting, note how the wine pairs with the Duplin Gourmet crackers and Muscadine Pineapple Habenero dip. See which wine you like best with those snacks and others you may be enjoying during your at-home or virtual tasting. Cheers!
---
Now, let's begin our wine tasting!

Magnolia
Carlos Williams, who was a N.C. State University professor, and his team developed the namesake grape in Magnolia, N.C., Williams' hometown. This semi-sweet, fruity wine in 1989 earned Duplin its first international prize. In 2006, Martha Stewart Living magazine billed it one of summer's best wines. Note the medium body, sweet start and clean finish. Magnolia might remind you of riesling. It pairs really well with spicy foods.

Naughty & Nice

Naughty & Nice is a Christmas white made with a special blend of Scuppernong and Niagara grapes. This white has less alcohol kick than many of Duplin's other wines. Each sip is oh smooth and mellow.
We like to joke that this wine is so good that it can make naughty people nice and nice people naughty, or it can make you both naughty and nice at the same time!

Coastal Shag
Duplin's driest red wine, contains a blend of early harvest Muscadine grapes. Light-bodied with a fruity start and smooth finish, it might remind you of a lazy day at the beach and a night of dancing on the boardwalk. The label features the Red Knot, a coastal Sandpiper that frequents both North and South Carolina shores.
Christmas Wine
One of Duplin's most beloved Christmas wines, this red blends North Carolina muscadines that bring the taste of a true Southern Christmas. Sweet with hints of berry to start followed by a touch of spice, this red moves easily from cocktail hour to holiday dinner table. Try it with Christmas cookies, especially gingerbread, molasses cookies, chocolate chip and gooey butter cakes.
Muscadine Kisses
Duplin's new 2020 holiday blush is a blend of red and white Muscadine grapes. This wine has a fresher, fuller sweet start and a smooth, warming finish. Ice cold, it will remind you of that wonderfully crisp air that always accompanies winter's first snowfall while you lounge inside, cozy by the fire.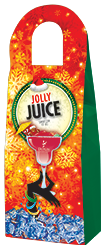 Jolly Juice
Duplin wine slushies are called "Sweetzers,"and you can easily make them at home. This mix's flavor is a delicious fusion of grapes and berries. Whizz Jolly Juice mix in a blender with Muscadine Kisses blush wine and plenty of ice. The flavors co-mingle and create the most scrumptious frozen concoction. Sweetzers are great refreshers for ending any wine tasting.
Muscadine Pineapple Habanero Dip
Duplin Gourmet Muscadine Pineapple Habanero Dip pairs perfectly with any Duplin wine tasting. Between wines, eat a few crackers with the dip to help cleanse your palate. This tasty recipe is super easy to make and even better to eat!
Recipe: Soften one 8-ounce block of cream cheese and mix in ½ of a jar of Duplin Muscadine Pineapple & Habanero Salsa. Use a hand mixer to blend together until the consistency is creamy. Serve with Duplin Gourmet Crackers.