Walk by The Bistro at Duplin Winery's kitchen, and you may be lucky enough to catch a whiff of buttery goodness with soft vanilla notes and hints of cinnamon or chocolate blending into a mouth-watering aroma. That's when you know Chef Tabatha is in the middle of creating another one of her delectable, gourmet desserts.
Lovingly handcrafted, Chef Tabatha's sweet gourmet specialties are always in popular demand from customers throughout North Carolina. People will travel for hours to pick up one of her specialty cheesecakes to share with friends and family during the holidays.
This season, Chef Tabatha is offering a variety of choices from ten cakes, ten cheesecakes and four pies that you may pre-order for pick up at Duplin Winery at Rose Hill. Or, you can select from several of her ready-made options that are available online.
To place your order, call 910.289.8888 and let our customer service team know which delicious dessert you would like to order. Can't pick just one? Order a couple of different options; they are all superb. Pre-orders will close based on inventory availability. Order early!
Pick-up is only at our Rose Hill location; not available in North Myrtle Beach.
Each dessert serves 10 to 12 people.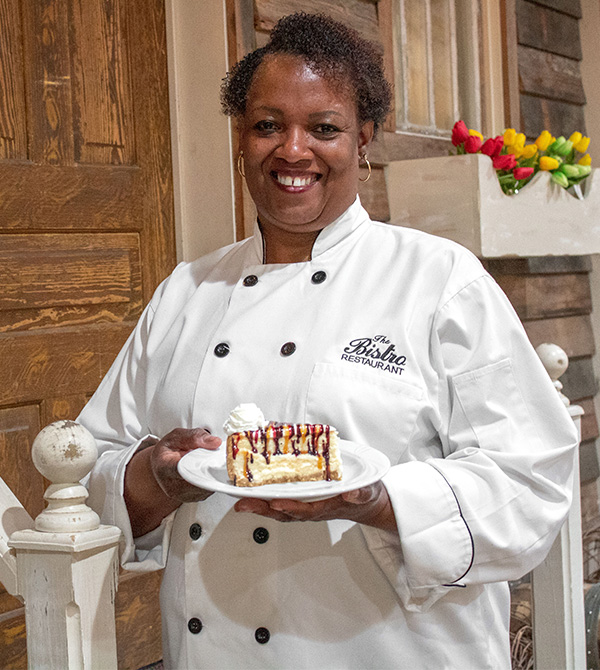 Christmas Dessert Menu
Cakes
Lemon Pound Cake: $30
Bundt cake with lemon glaze
Strawberry Cake: $35
4 strawberry layers, cream cheese icing
Hershey Bar Cake: $35
4 chocolate layers, chocolate chip whip icing
Oreo Cake: $35
4 layers, cream cheese icing
Chocolate Cake: $40
Yellow cake, chocolate butter cream icing
Pineapple Cake: $40
4 vanilla layers, cream cheese icing
Coconut Cake: $40
4 vanilla layers, toasted coconut cream cheese icing
Red Velvet Cake: $40 or $44 (Nuts)
4 layers, cream cheese icing, can be topped with nuts
Carrot Cake: $40 or $44 (Nuts)
4 layers, cream cheese icing, can be topped with nuts
Cheesecakes
Plain Cheesecake: $40
Sour cream topping
S'moreo Cheesecake: $40
Marshmallow and chocolate ganache
Strawberry Cheesecake: $40
Two strawberry cake layers, cream cheese icing
Pum'kin Cheesecake: $40
Pumpkin inside of filling, topped with wine whipped cream
Christmas Tree Cheesecake: $40
Golden cake crust, cream cheese icing
Snowy Dream Cheesecake: $40
Crushed Oreo crust, chocolate-chip cheesecake, chocolate ganache with toasted coconut and almonds
Red Velvet Cheesecake: $45
Two Red Velvet cake layers, cream cheese icing
Strawberry Crunch Cheesecake: $45
Strawberry inside of filling, cookie crunch on top
Pies
Sweet Potato Pie: $20
Apple Pie: $25
Deep dish pie with granny apple
Coconut Pie: $25
Pecan Pie: $25
Want to keep a menu handy? You can download it to your phone or computer.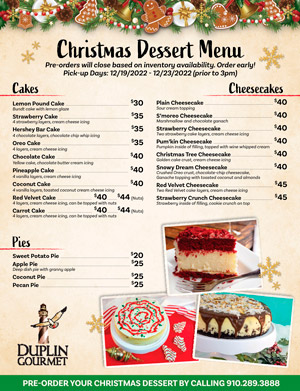 ---
---
In a rush and didn't pre-order? Purchase these ready-made cheesecakes by Chef Tabatha.