Celebrate true love with family and friends at Duplin Winery in Rose Hill, North Carolina.
From intimate Southern elegance to large formal affairs, Duplin Winery offers venues where every wedding becomes an unforgettable day at our location in Rose Hill, North Carolina. The staff of Duplin Winery will customize your special day according to your personal preferences. We want your ceremony to be full of joy and peace. Let us help to make it perfect.
Our locations showcase romance, simplicity and beauty. Whether you walk down one of our 'vineyard' aisles with the sweet Muscadine aromas or opt for an indoor, intimately lit affair, we will provide exceptional and personalized service.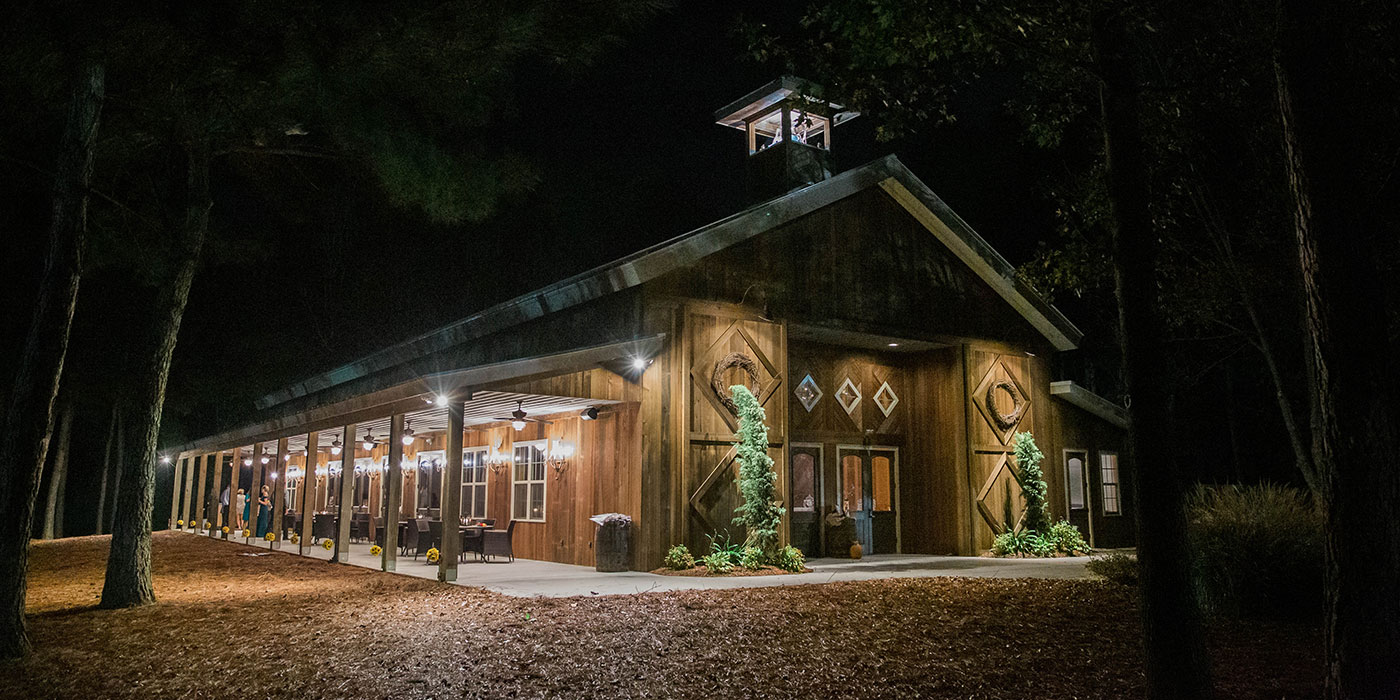 The Chapel in Duplin's Vineyards
Nestled in the towering pines and casting shadows on one of the several ponds located on the property, The Chapel in Duplin's Vineyards offers the perfect venue for fairytale weddings. The Chapel, adorned in repurposed Cypress wood, presents a natural décor that is easily adaptable to any theme. High ceilings and exposed beams wrapped in beautiful grapevines and twinkle lights highlight a large banquet hall with customizable configurations, a bridal suite, restrooms, and a prep kitchen. A covered porch looking out to the ponds and across the vineyards adds a unique entertainment space.
In season, the lush vineyards help to create an enchanting backdrop for an unforgettable outdoor ceremony. A wedding among the grapevines, in the amphitheater, or near one of the ponds or gardens provides a romantic and photogenic opportunity for any bride and her guests.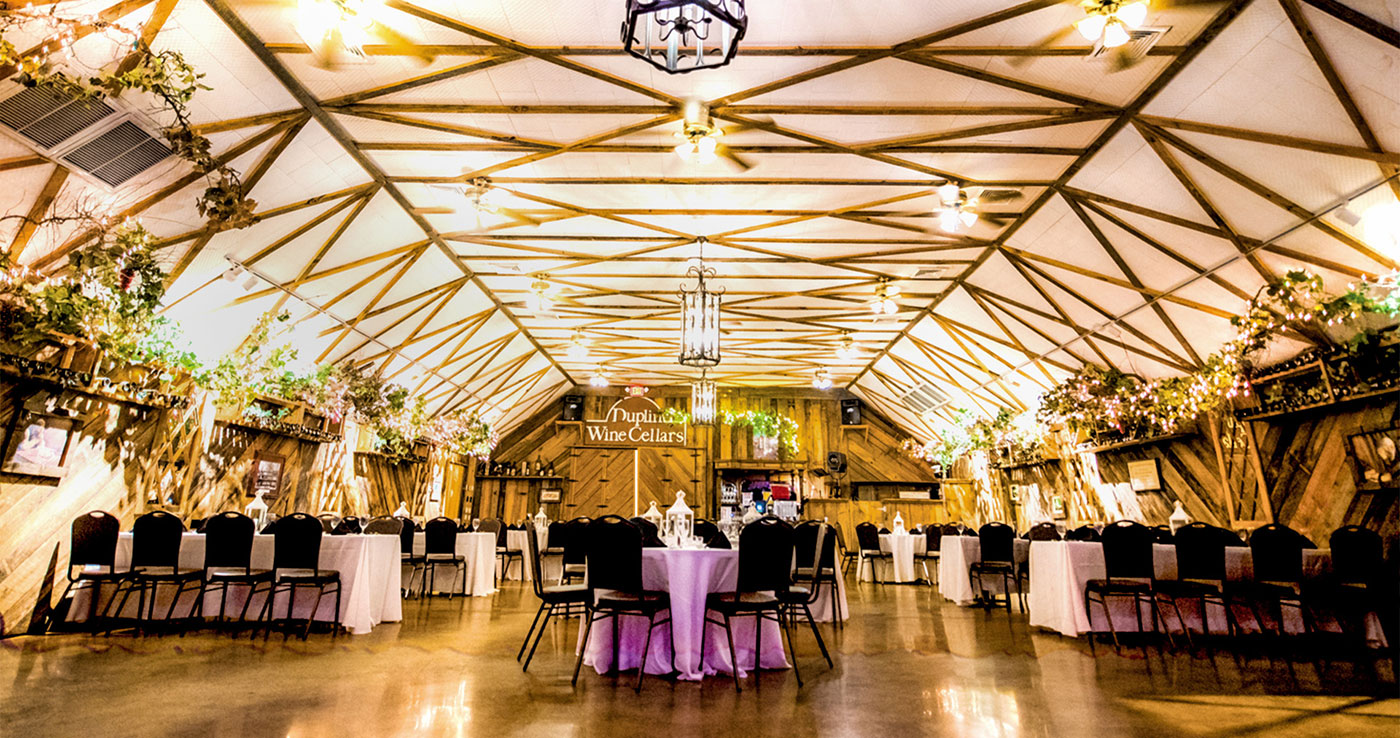 The Bistro in Duplin's Winery
The Bistro at Duplin Winery is a perfect location to set the stage for your wedding reception. The interior space has elegant, dim lighting and miniature lights which are interlaced with grapevines to present perfect southern charm. With a full kitchen, menu packages can be customized to suit your dinner party's needs. In addition, there is a rustic stage for presentations, dressing rooms and internet access available upon request.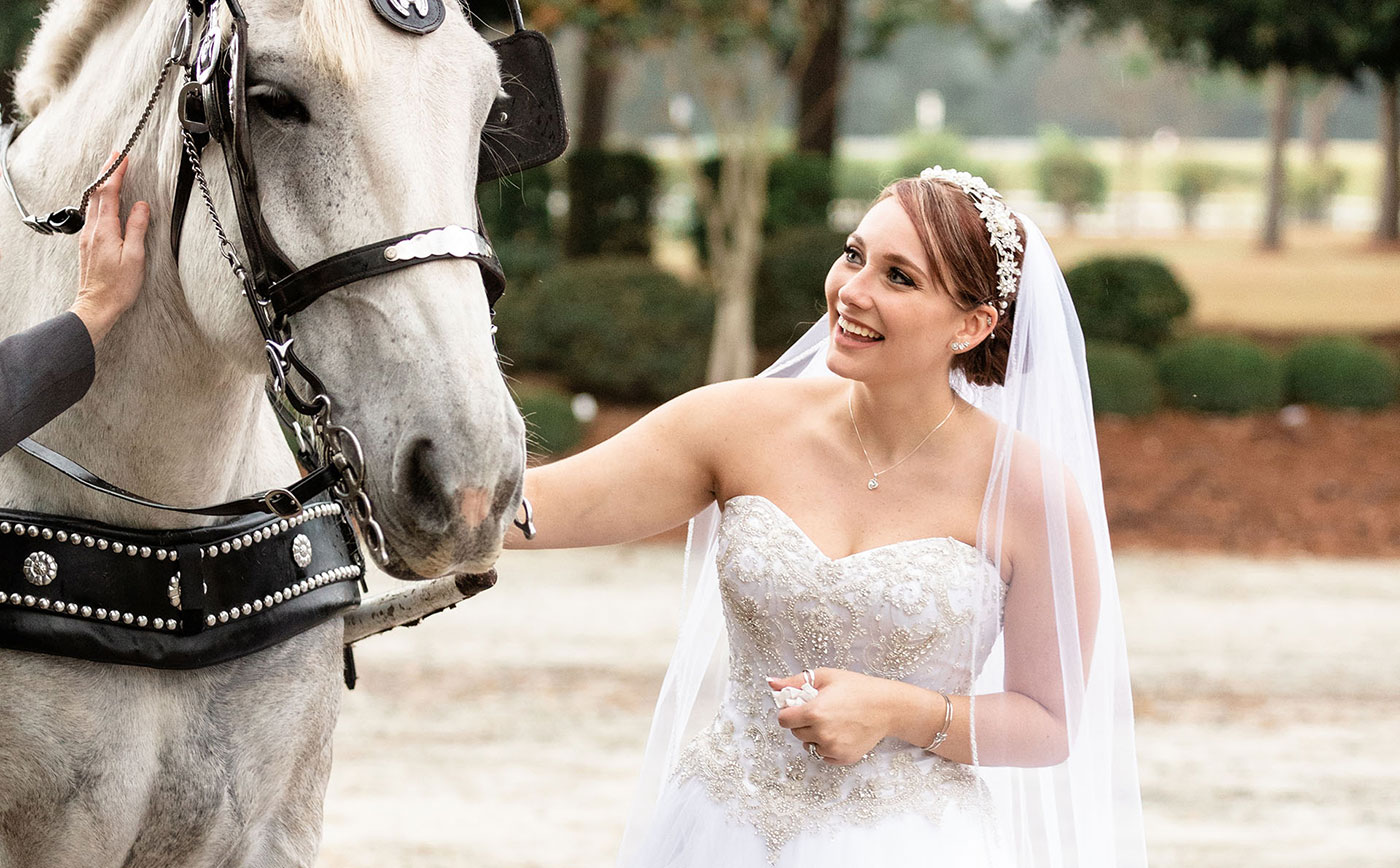 SEE WHAT OTHERS ARE SAYING
Beautiful wedding venue!
Event staff were friendly, food was excellent, and of course, this wine is our favorite. Only a couple of miles from the winery store.
~ Kimberly
Google Review
---
Our wedding at Duplin Winery was more perfect than we could've imagined!
Frances and Crystal made sure that every detail was thought through and planned perfectly. Our wedding was in the vineyard and it was so beautiful. The chapel where our reception was located had the most beautiful lights in the ceiling and plenty of AC for the hot summer night. We used the bistro for our caterer and the food was delicious. Picking Duplin for our venue was the best decision we made!
~ Ashley
Wedding Wire
---
Great to work with! My dream wedding!
Crystal and Avery and their tram at Duplin Winery were simply amazing! Crystal was always willing to answer any and all of my questions and was wonderful! It was definitely my dream wedding!!
~ Riley
Wedding Wire
Mr. & Mrs. Smith
We had our ceremony on the stage in the Winery VineWe had our ceremony on the stage in the Winery Vineyards and our reception in the chapel barn. Both spaces were incredible and were reasonably priced! They also have an option for in house catering (they were booked during our weekend). Crystal was an amazing coordinator. She worked with my crazy schedule and helped me coordinate with my many vendors! Duplin also offers table center pieces and they fit perfectly with our theme! The venue is so pretty as is it required very little decorating on our end! Our guests have raved about the venue and how smooth everything flowed. They have several gorgeous sites for pictures too! It's just simply southern perfection!! I highly recommend picking them to host your special day!!
~ Jennifer
Wedding Wire
---
Amazing Venue!
Crystal helped make my day wonderful! Most people would look at the winery's prices and say wow it's expensive but they went above and beyond my expectations. If I could go back and do it all over again I would 100% choose the Duplin Winery again!!
~ Megan
Wedding Wire