No matter who is playing in this year's Super Bowl, fans expect tasty snacks. During Super Bowl commericals and the half-time show, your crowd will happily huddle around these 12 snacks that offer everything you expect from the best Super Bowl foods: cheese, spice and crunch. Plus, you can make most of them ahead of time.
Cream cheese, pineapple and habanero all wrapped up in bacon give our take on these Super Bowl favorites extra layers of flavor.
Better buy a few huge bags of chips. This creamy dip full of parmesan, fresh spinach and plenty of chopped artichoke hearts is so darn tasty it gets scooped up faster than Tyreek Hill headed toward the end zone.
With two layers of crispy, thick-cut bacon, a base of creamy ranch cheese and minimal prep time, our no-bake Barbecue Bacon Ranch Dip is the Super Bowl recipe you'll reach for every year.
Sauces make the wings, the snack world's most important contribution to Super Bowl Sunday or the NCAA basketball tournament or any major sports event for that matter. All of these dipping sauces for chicken wings call for three ingredients or less, leaving you more time to drink wine and eat snacks while watching the big game.
Cream cheese chicken chili is all over the internet because its blend of ranch dressing, cream cheese and chili spices fills the belly with pure comfort. We bumped up the recipe by marinating the chicken in Duplin Magnolia and adding a little more wine to the pot. Prepare this chili in an Instapot, slow cooker or on the stove. It also works as a hot-dip or creamy pasta sauce.
The best Super Bowl chili recipes are easy, serve up spicy heat and make enough for a crowd. You won't use a whole bottle of Duplin Burgundy wine in this recipe, which is great because the wine's light sweetness pairs perfectly with the chili. Serve leftovers over pasta, rice or crumbled cornbread.
Nothing says Super Bowl Sunday munchies like a sheet pan piled high with nachos hot from the oven. It's one of the easiest party snacks you can make. This recipe is loaded with ground beef, black beans, corn and as much cheese as you want.
Pepper Jelly Pimento Cheese Football
Pimento cheese seems to be everywhere these days, ending up on biscuits, burgers, fried green tomatoes and fried chicken sandwiches. This make-ahead, pecan-coated cheese ball gets some zip from pepper jelly and chopped garlic. For Super Bowl, shape it into a football.
If it's warm enough to grill out, these ribs brushed with a smokey eastern North Carolina-style sauce will make Super Bowl Sunday a blast even if your team loses or you're totally not into football.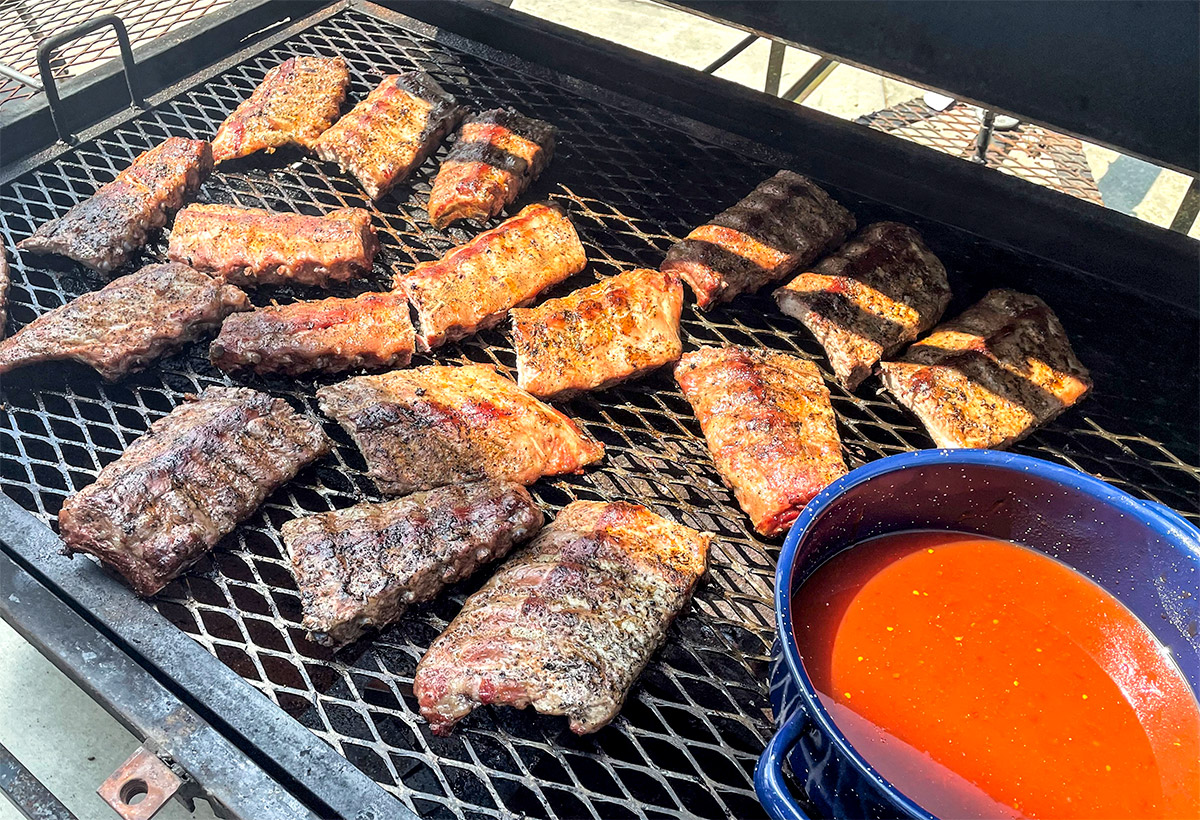 The person with the Jell-O shots is everyone's best friend at the party. You'll be the center of attention for sure when you show up with all four flavors of Cotton Candy Jell-O shots, so you better make extra. We punched up Duplin Cotton Candy Lime, Blueberry, Peach and Original wines with matching flavored vodkas for a rainbow collection of tasty Jell-O shots. Pack them in coolers to take to Super Bowl parties.
This '80s throwback, one-bowl recipe never goes out of style. Even after all these years, guests love to scoop up the mix of black-eyed peas, red bell peppers and garlic in a sweet, tangy vinaigrette. Buy sturdy tortilla chips or scoop-style corn chips to accompany the dip.
A spicy, creamy version of famous Buffalo wings but less work and no bones to clean up after the party. We love to serve this dip with chunks of celery. The recipe doesn't call for blue cheese, but sometimes we scatter blue cheese crumbles on top when the dip comes out of the oven.