Before we begin, we want to say thank you for your purchase of our Spring At Home Wine Tasting Set. We hope you enjoy each wine, our gourmet crackers and our Muscadine Pineapple Habanero Dip.
Don't have our Spring At Home Wine Tasting Set? Don't worry, you can add directly to your cart from this page!
Prior to starting your wine tasting, be sure to have your dip and crackers ready to enjoy between each wine. They help cleanse the palate between each tasting.
Along with your wines, you should find a recipe card that features two of our well-loved dips, Muscadine Pineapple Habanero Dip and Muscadine Red Pepper & Onion Relish Dip. The dip is easy and quick to make and can be prepared right before you start your wine tasting.
Five S's of Wine Tasting
We would like to give a quick lesson about the Five S's of wine tasting! The five S's are See, Swirl, Sniff, Sip and Savor and are used as a way to evaluate wine. Make sure to use the five s's when sampling each of our wines on the tasting sheet.
See: The color of a wine can offer hints to the grape variety used in the wine you are about to enjoy. If the wine color is bright and saturated, the flavor is usually more intense in flavor.
Swirl: In order to see if a wine is light or heavy, you swirl your wine in your glass. Heavier wines will be deeper in color and will have a stronger aroma. If the wine is sweet, the swirling of the wine in the glass will leave viscous streaks down the inside of the glass when swirled.
Sniff: Before tasting your wine, bring the glass to your nose and smell its fragrant bouquet. Pausing to experience the aroma of the wine will heighten your senses and anticipation of the first sip.
Sip: Take a sip slightly larger than you normally would and hold the wine in your mouth for 3-5 seconds, letting it coat the inside of your mouth and tongue. Once the wine sits, the flavors are even further released when warmed by your taste buds. Before swallowing, purse your lips and breathe in gently, allowing the air to travel across the wine in your mouth to get the full wine flavor profile. Savor: After consuming your first sip, you'll get a sensation that is slightly different from the taste when the wine was resting in your mouth. This is where you taste and feel the finish of the wine, which can take up to a minute to fully complete.
---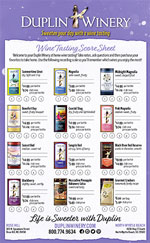 At Home Wine Tasting Score Card
Now, let's begin our wine tasting!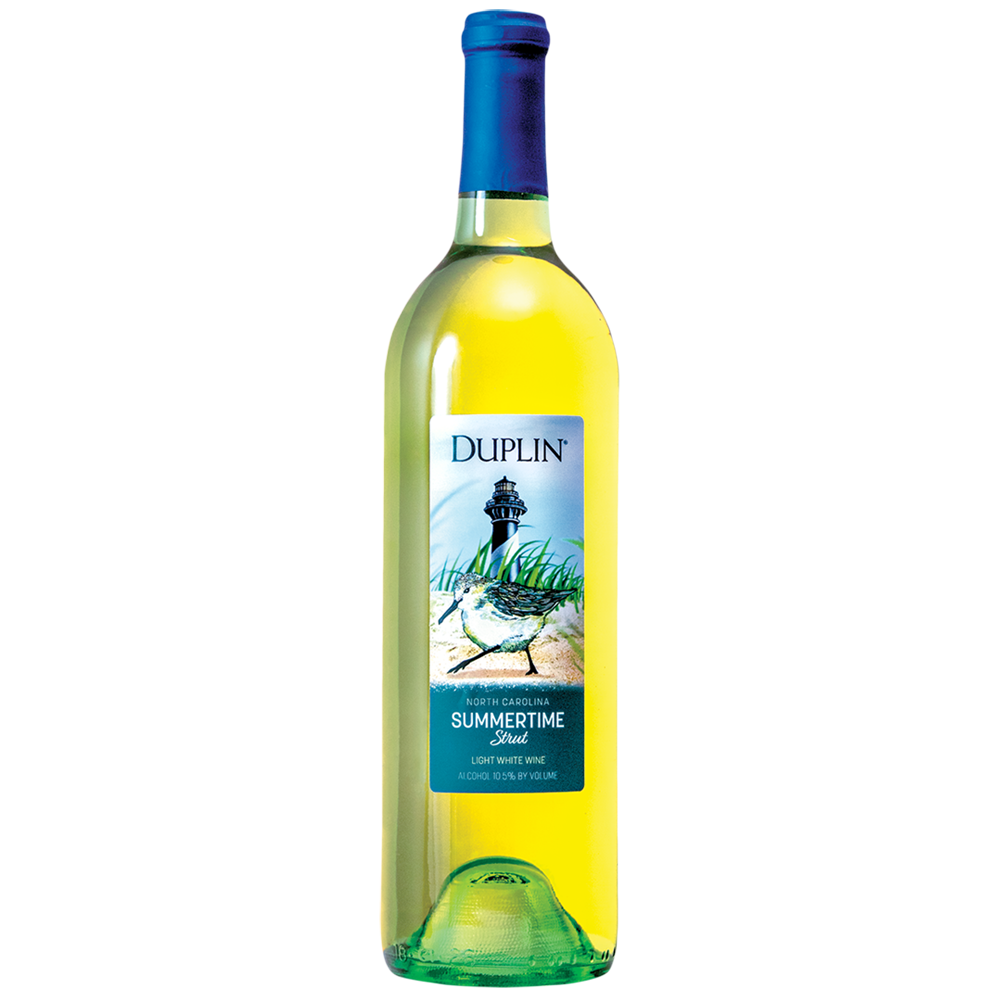 Summertime Strut
The first wine on our Spring At Home Wine Tasting is our driest white wine, Summertime Strut.
Released in 2018, this dry white wine features the art of the Sanderling Sandpiper, a coastal bird found on the beaches of North and South Carolina during the winter months.
This special blend of Carlos and Doreen Muscadine grapes combine to make a very light-bodied and fruity dry white wine with a crisp finish.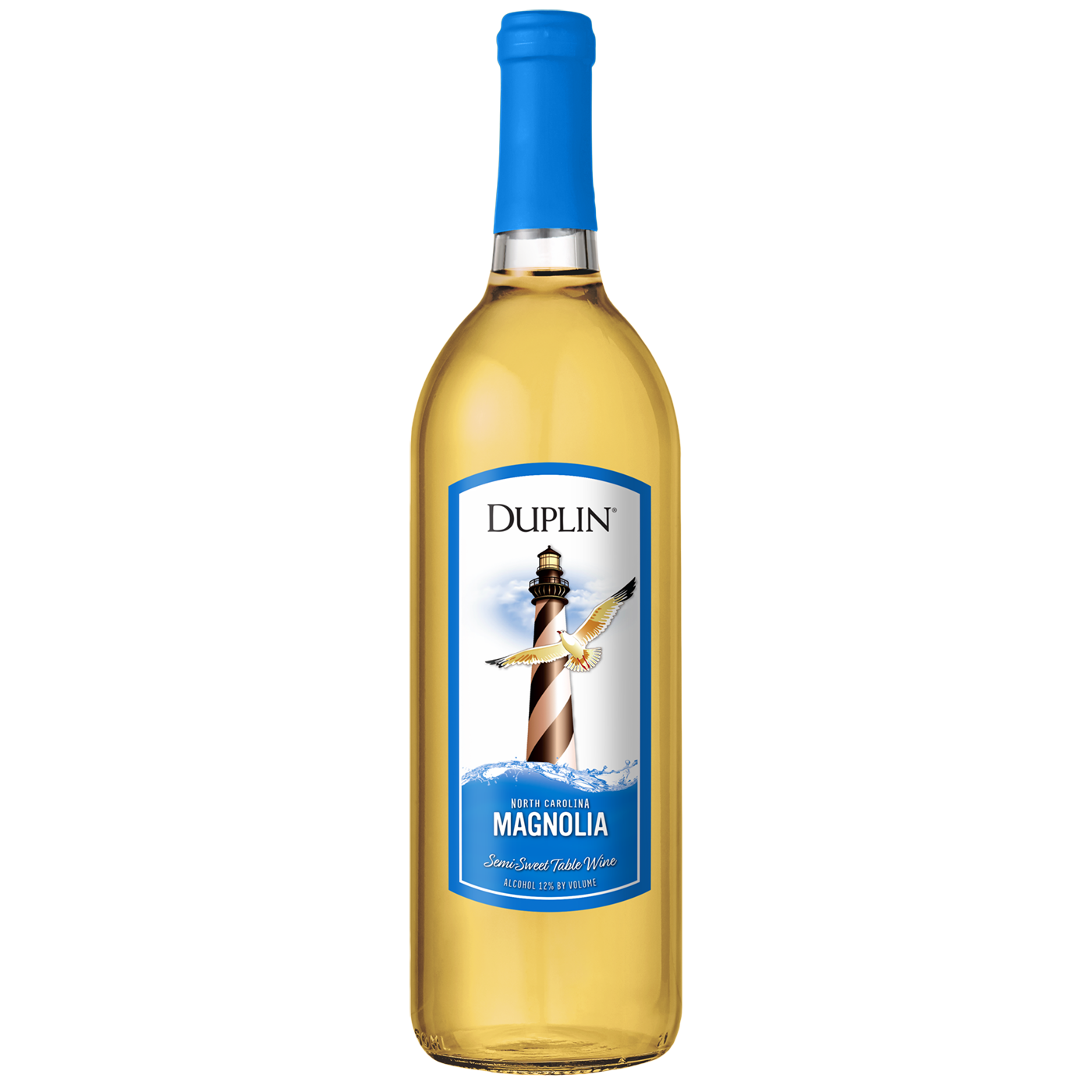 Magnolia
The second wine we'll be trying on our wine tasting is Magnolia, which was released in 1981. This medium-sweet white wine was one of Martha Stewart's top five summer wines in 2006 and won an international wine award in Madrid, Spain in 1989.
Magnolia is a medium-bodied white Muscadine blend that has a sweet start and a clean finish. This wine pairs perfectly with seafood and chicken entrées.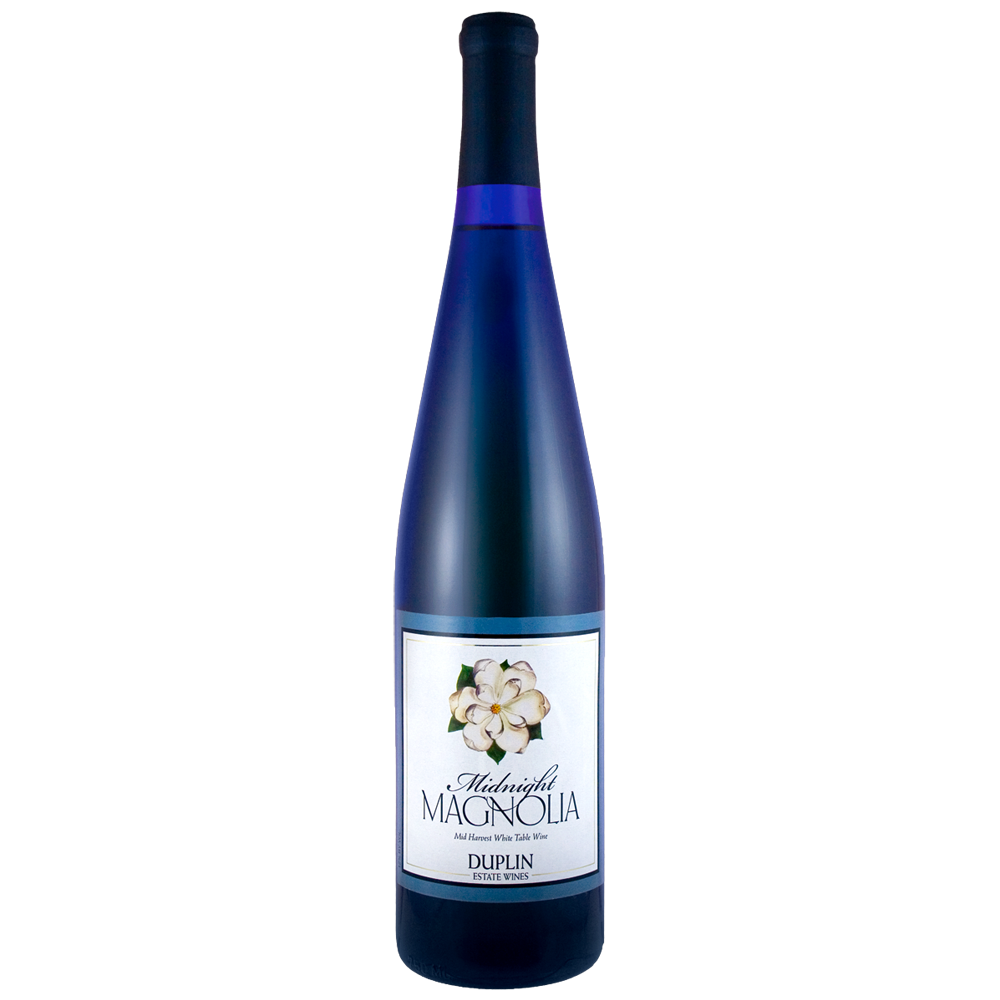 Midnight Magnolia
The third wine on our tasting sheet is Midnight Magnolia, Jonathan Fussell's personal favorite wine. He claims that the two times his wife enjoyed a few glasses he was gifted with his two beautiful children.
One of our three estate wines, Midnight Magnolia is made from estate grapes that are grown within four miles of our winery.
Close your eyes as you take your first sip and experience the elegant fruity start, then the crisp finish.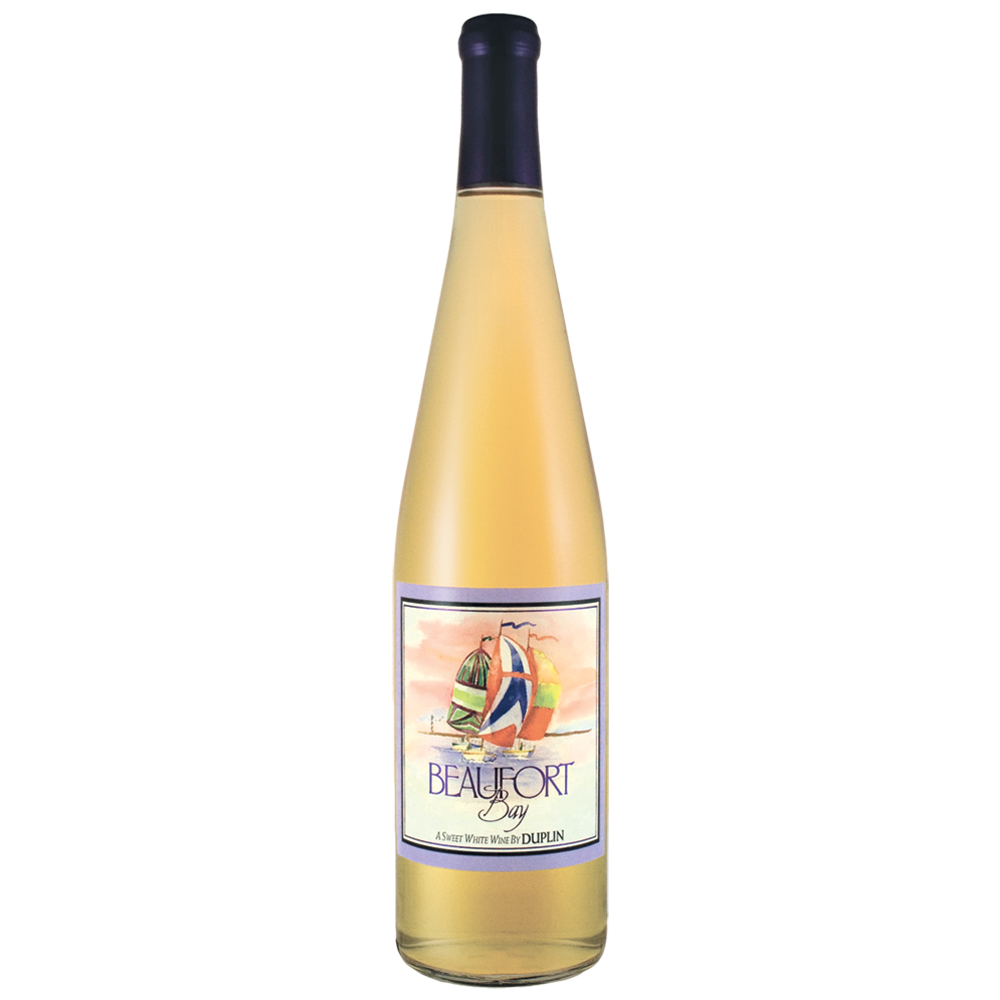 Beaufort Bay
Another one of our estate wines, Beaufort Bay is made from Duplin's Estate Scuppernong grapes. After the first sip, many customers remark how it reminds them of sitting underneath their grandparent's grape vines, eating the fresh harvest while staring at the beautiful blue Carolina sky.
With a strong, fruity bouquet taste, this white estate wine is sweet and well loved in our coastal region.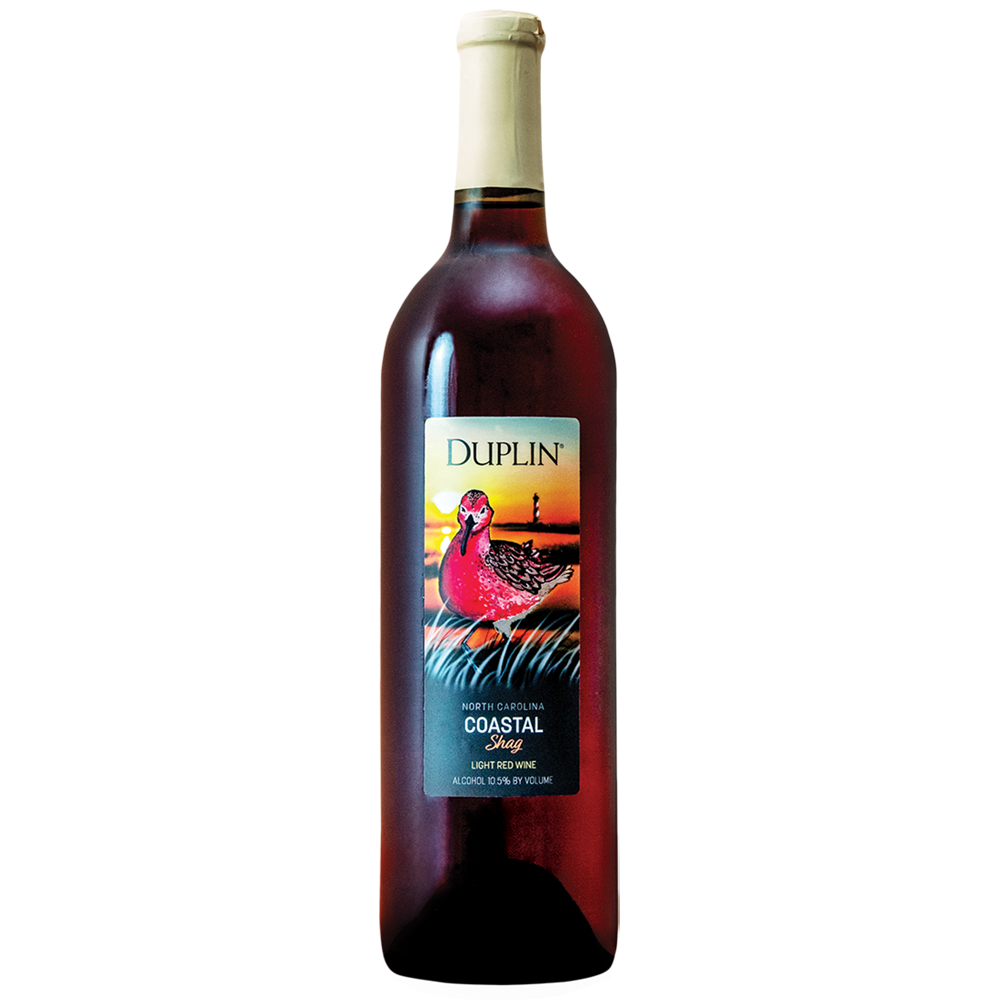 Coastal Shag
The first red wine that we will be trying is our driest red wine, Coastal Shag. This red pairs with our Summertime Strut and features the Red Knot, another coastal Sandpiper that frequents both North and South Carolina shores.
This dry red wine is made from a blend of early harvested Muscadine grapes. It is light-bodied with a fruity start and a smooth finish.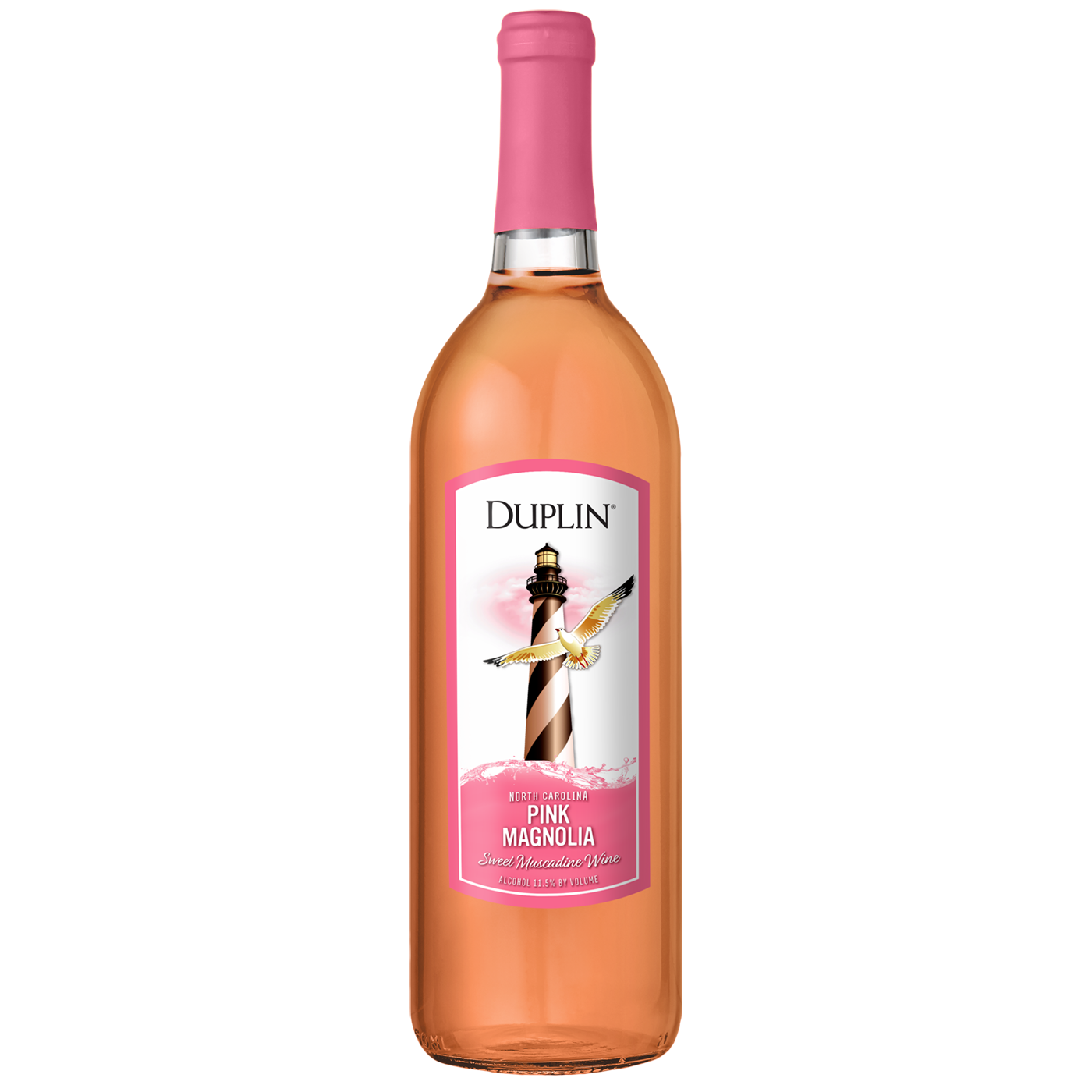 Pink Magnolia
Following Coastal Shag is Pink Magnolia, a medium sweet fruity blush. In 2003, Pink Magnolia won it's first gold medal for best blush and best in class at a California wine competition that had wine competitors from over 3,000 locations.
Moderately light-bodied, this wine is produced with carefully selected mid-harvest grapes to create a perfect balance of fruit and flavor.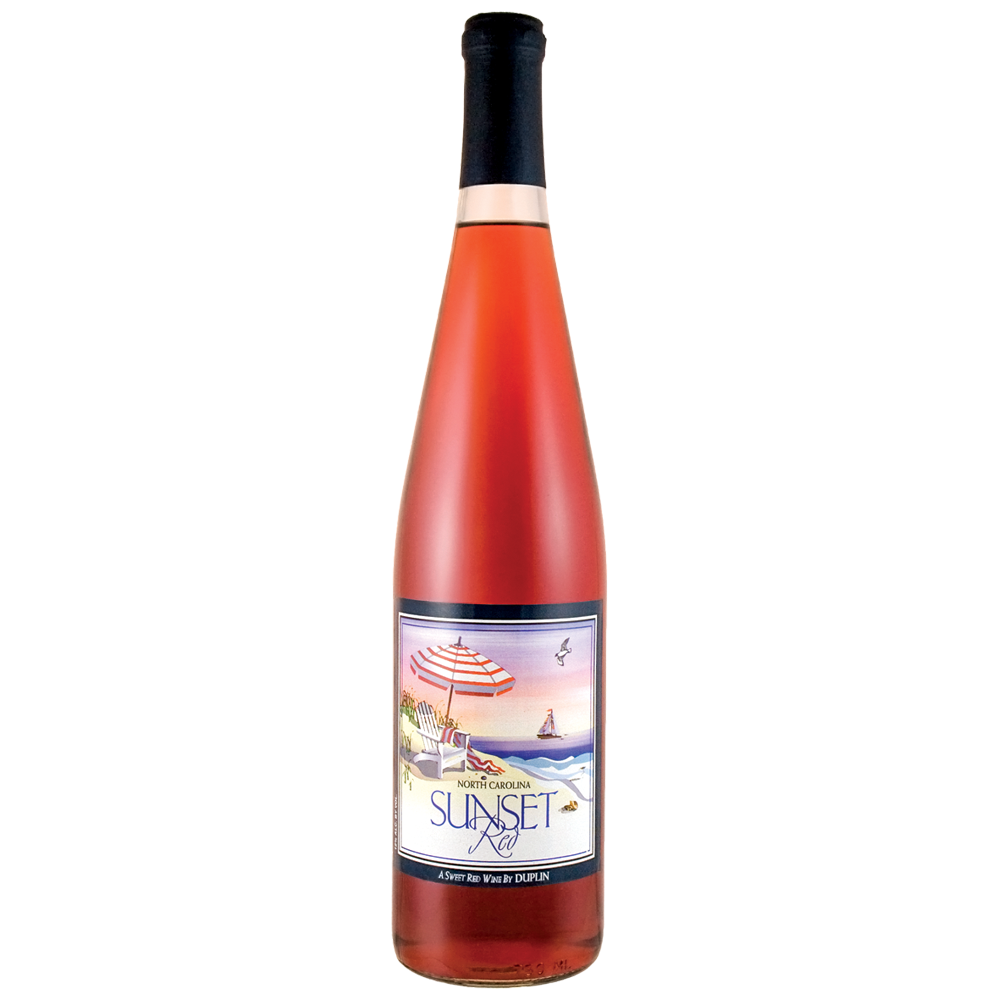 Sunset Red
The third estate wine, Sunset Red is loved by many employees. They joke that the flavor is like a party on your palate! The complex flavor surprises your tongue and causes it to dance!
Made with Duplin's Estate Coastal James Muscadines, Sunset Red is sweet and balanced but amazes your taste buds with a little bite at the end!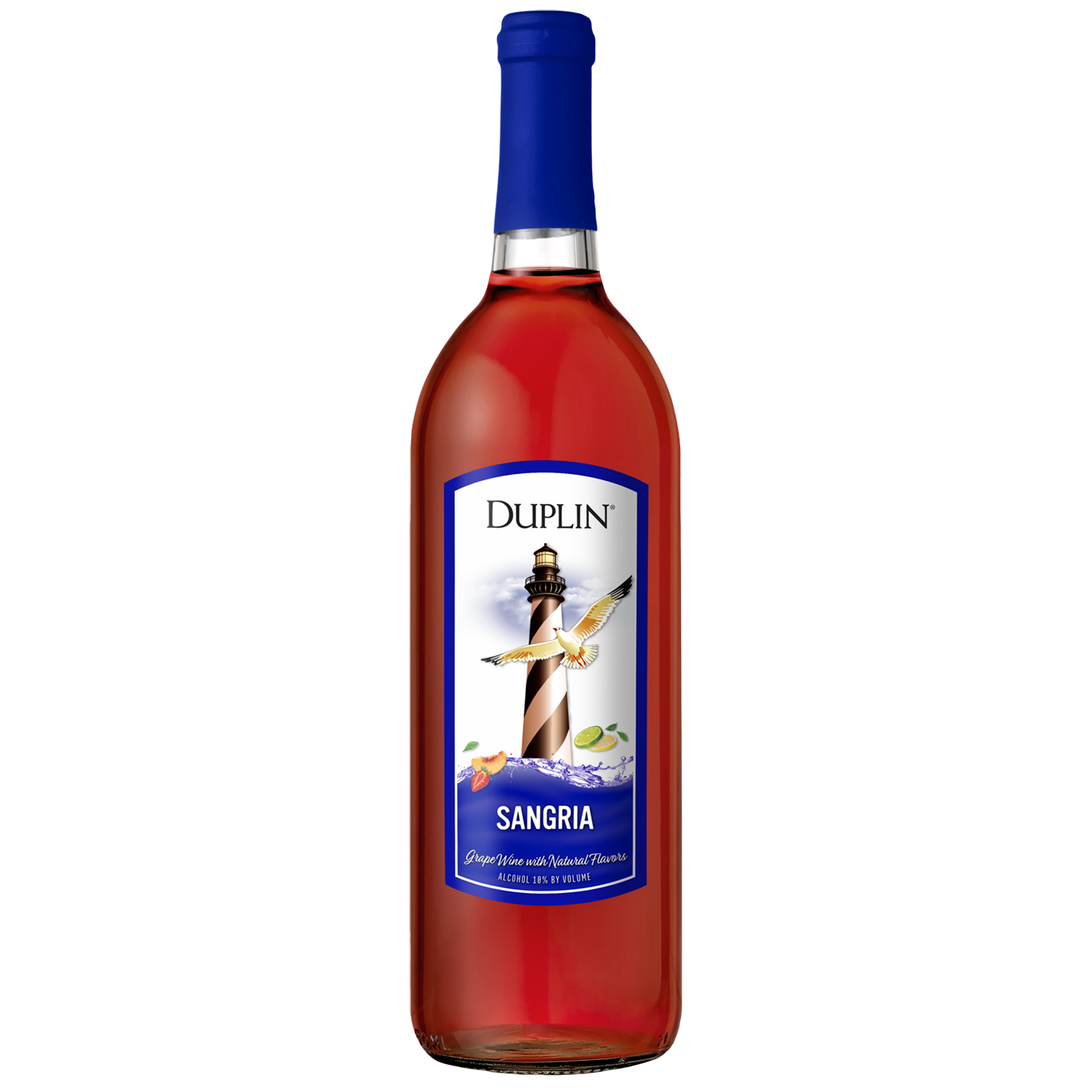 Sangria Red
In 2015, Sangria Red was released and quickly became a crowd favorite with its citrusy berry flavor.
Made from a blend of ripened red Muscadines, citrus and strawberry, this wine is wonderful by itself or paired with fresh fruits. On a hot summer day, we like to freeze fruit chunks to drop in our glasses to keep the wine cold and add extra fruit flavor!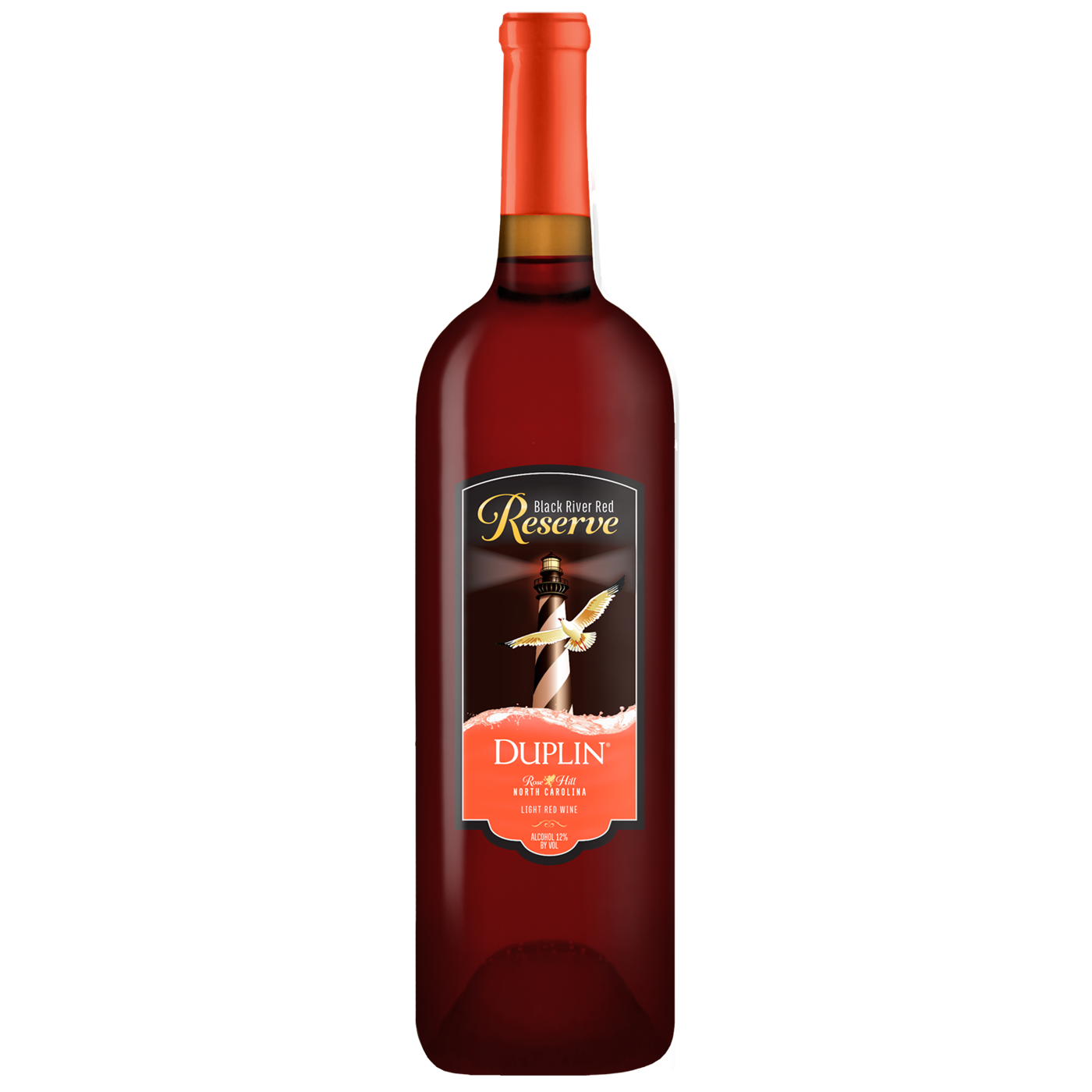 Black River Red Reserve
We were blessed to have a fruitful crop in 2018 after Hurricane Florence. We found that our grapes were exceptional. The high quality of grapes allowed us to create and release Black River Red Reserve. Each grape was inspected and hand selected to allow us to create this limited release wine.
Exotic in character and smooth in finish, this mellow reserve is ripe with sweet fruit and soft in structure.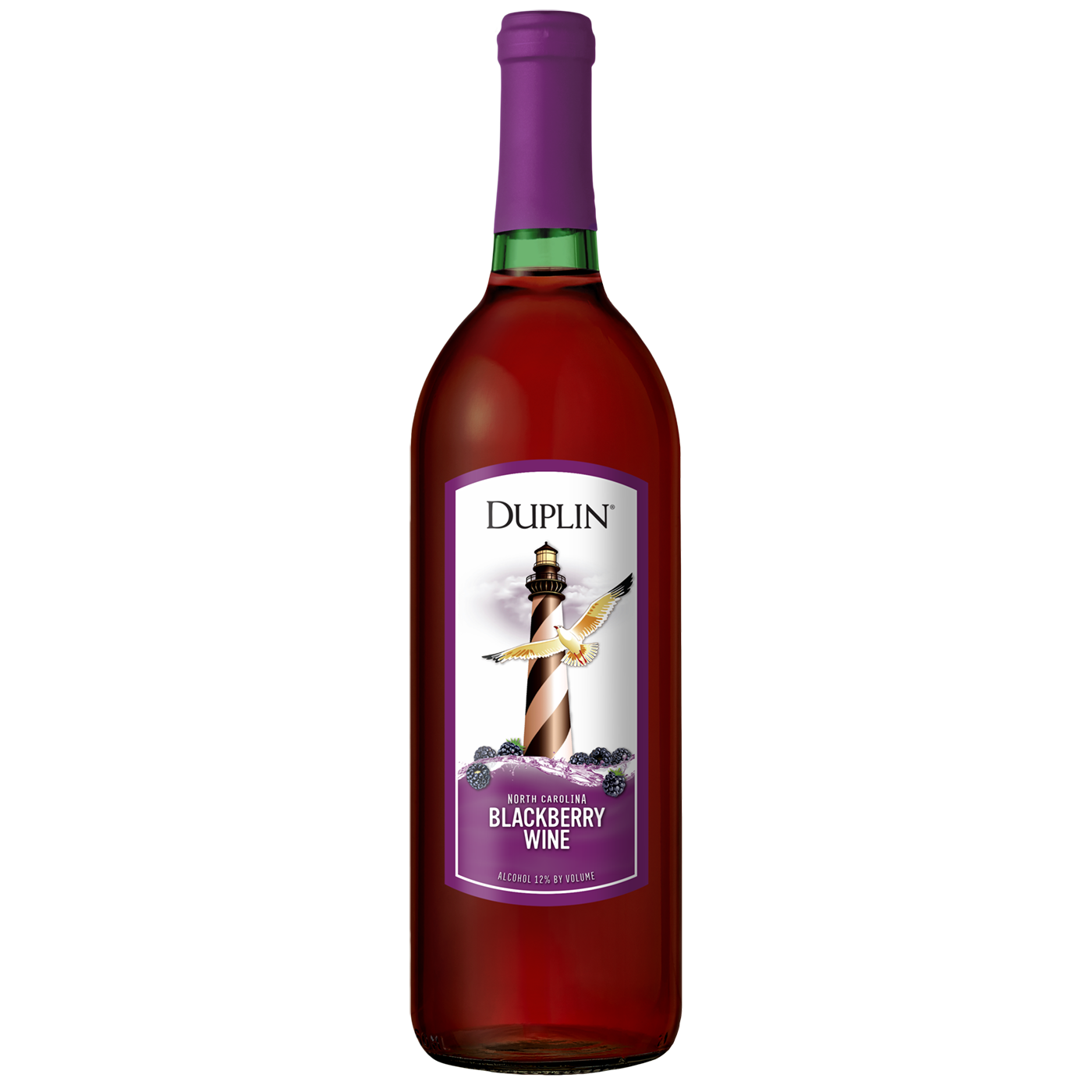 Blackberry
Our last wine is made with 100% local blackberries from Kings Mountain, NC. The perfect combination of southern Piedmont soil and climate contributes to the delicious old timey taste of this superb southern fruit wine.
This full-bodied wine is slightly sweet and earthy with a robust finish.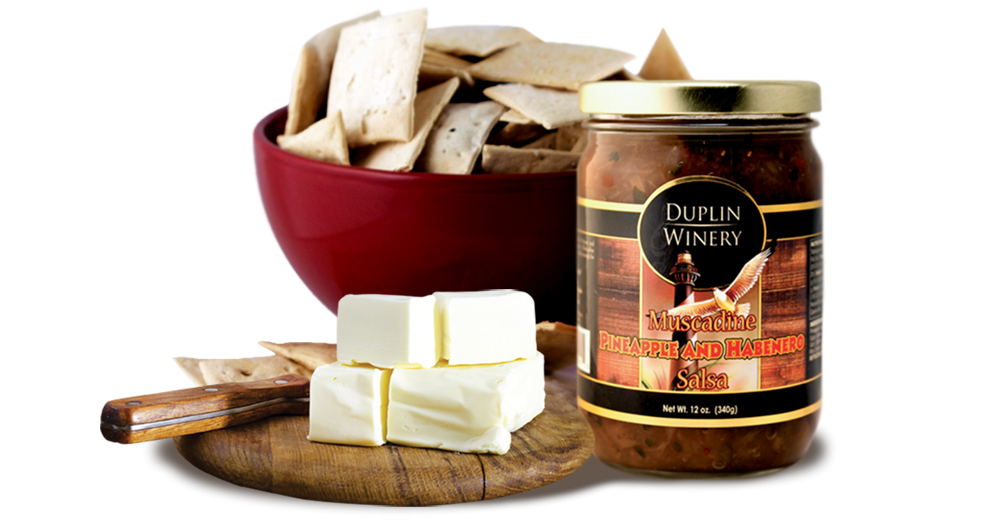 Muscadine Pineapple Habanero Dip
Our Muscadine Pineapple Habanero Dip pairs perfectly with our wine tastings. Between wines, eat a few crackers with the dip to help cleanse your palate. This tasty recipe is super easy to make and even better to eat!
To make: soften one 8oz block of cream cheese and mix ½ a jar of Duplin's Muscadine Pineapple & Habanero Salsa. Use a hand mixer to blend together until the consistency is creamy. Serve with Duplin's Gourmet Crackers.