Heritage Wine Club Members
Heritage Wine Club was created to reward our customer's love of great wine and good times, and to create a bond between Duplin Winery's history, future, and all lovers of muscadine wines. Each member is considered a part of our family, our history, and our Heritage. Are you a member of the Heritage Wine Club? Keep up-to-date with the latest news, wines in the current shipment, coupons and upcoming member events.
---
Current Heritage Wine Shipment
Each quarter, Heritage Club Members receive a shipment of Duplin wines, including family favorites, Duplin new releases and limited edition wines. The August Heritage Club Wine Shipment contains Midnight Magnolia Reserve, Orange Blossom and Pum'kin.
Flamingle Jingle
Everyone wants to "Flamingle" when holiday bells jingle on sparkling sugar-sand beaches. Shimmy all holiday season with a sweet pop of Christmas fruit. Perfect for holiday parties paired flavorful nibbles, such as bacon wrapped crab-stuffed grilled shrimp, cheese fondue and pumpkin pie.
Christmas Wine
Punch bowls and grand toasts around the Christmas tree. Grandma's special cookies warm from the oven. Shaking presents and sneaking kisses under the mistletoe. Everyone gathered in the kitchen to "test" the holiday ham. 'Tis the season to make sweet memories and pour Christmas Wine. Winter berries and a hint of spice make the season merry and bright.
Naughty & Nice
Some things about Christmas never change, thank goodness, including the fact that this wine is so delectable, it truly makes naughty folks nice and nice folks, well, a wee bit naughty. Oh so drinkable, this Duplin classic serves smooth sweetness. Perfect on ice with cocktail party nibbles right through New Year's Day. Exceptional with every course of Christmas dinner.
Jingle Juice Sweetzer
Oh, what fun it is to ride the frosty flavors of Jingle Juice Sweetzer wine slushie mix all the way through the holiday season. Have a winter berry, ribbon candy Christmas every time you whiz up a batch in your blender. Just add new Duplin Flamingle Jingle blush wine (plus a snort of vodka or coconut rum if you'd like) and ice. So easy! Finish each glass with a snowcap of whipped cream, and over the hills you go, laughing all the way.
Current Heritage Club Members:
Manage your account online.
---
$52.00
plus tax, per quarter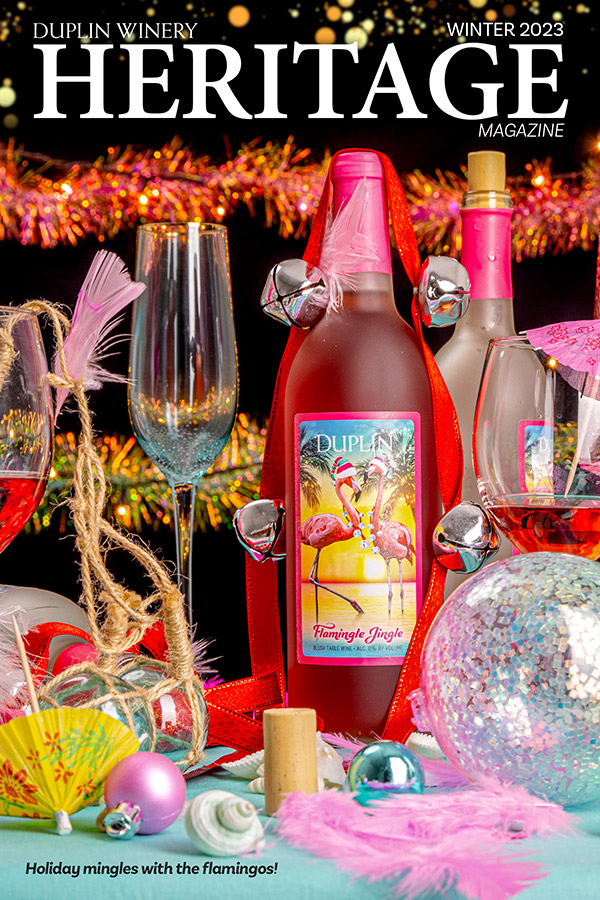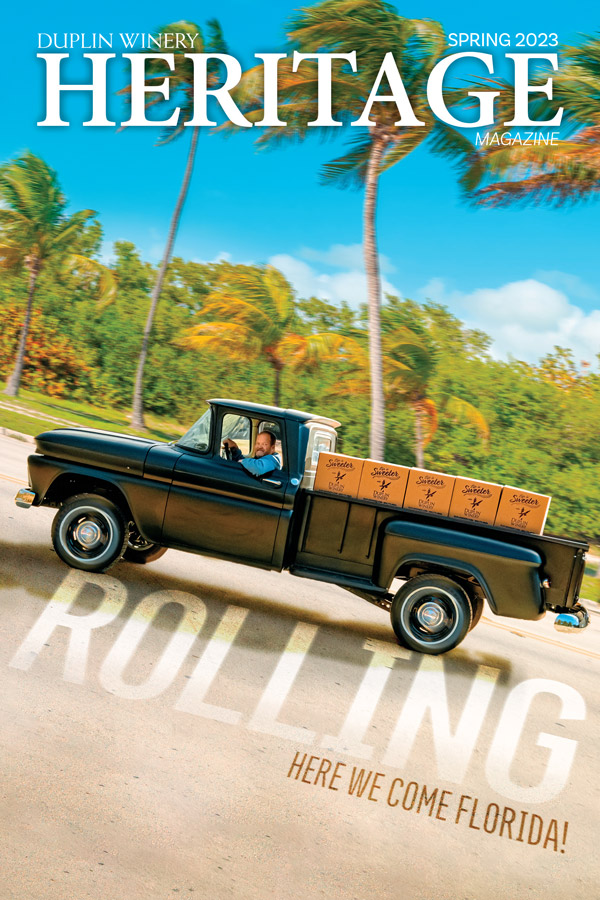 HERITAGE CLUB DECEMBER SPECIALS