Heritage Wine Club Members
Heritage Wine Club was created to reward our customer's love of great wine and good times, and to create a bond between Duplin Winery's history, future, and all lovers of muscadine wines. Each member is considered a part of our family, our history, and our Heritage. Are you a member of the Heritage Wine Club? Keep up-to-date with the latest news, wines in the current shipment, coupons and upcoming member events.
---
Upcoming Heritage Club Exclusive Events
All of our markets and tasting rooms, as well as The Bistro in Rose Hill, are open, with measures in place to keep everyone safe, but our Duplin Winery events schedule keeps fluctuating as we adapt to changing government health guidelines. We've had to alter our Heritage events this year, hence May's virtual pick-up party and the Heritage Appreciation Week August 10-14.
Some of our popular shows at The Bistro have been canceled too. We make decisions about events as state and local officials revise guidelines and procedures. Meantime, we're planning new events for the future that we know you'll love.
---
- SOLD OUT -
Heritage Appreciation Week
Reservations required • Limited capacity
August 10 - 14, 2020 • 11am - 5pm
Locations: North Myrtle Beach, SC & Rose Hill, NC
We usually hold one big Heritage pick-up party in August, but this challenging year has once again forced us to change course. So we're setting aside time to honor you at our first Heritage Appreciation Week. Reservations are limited and required. We know that many of you may be reading this after our Heritage Appreciation Week dates. We made sure to send email notifications to you in the weeks leading up to this event so that you could secure a reservation. The week's "Decades" theme was inspired by Twenty 20 Crush, your Heritage exclusive release. The Roaring '20s label design convinced us to celebrate a different decade each day of Heritage Appreciation Week.
Aug. 10: 1980s
Aug. 11: 1970s
Aug. 12: 1950s and 1960s
Aug. 13: 1930s and 1940s
Aug. 14: the Roaring '20s
Each day's celebration includes games, prizes, goodie bags full of delicious things and live music of the decade. Be sure to make a reservation at duplinwinery.com and come dressed in the fashion of the "Decades" day you choose.
Current Heritage Club Members:
Manage your account online.
---
$52.00
plus tax, per quarter
---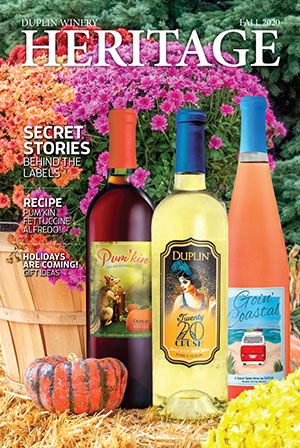 Current Heritage Wine Shipment
Each quarter, Heritage Club Members receive a shipment of Duplin wines that can include family favorites, Duplin new releases and limited edition wines. The February Heritage Club Wine Shipment contains Black River Red Reserve, Mothervine Wine, Hatteras Red and Chocolatini Sweetzer Mix.

Twenty 20 Crush
Heritage Club Exclusive Wine
$44.99