Endless summer is a real thing when you sprinkle your calendar with a little shindig we like to call "Sunshine State of Wine." The best way to do it is by having everything you need delivered to your door in one box. All that's left for you to do is text some friends and inflate the flamingo floaties!
The best 5 bottles for this sizzling event include Duplin's newest summer party wines that celebrate the winery's new location in Panama City Beach, Fla.! There's Orange Blossom, a fun, fizzy wine full of refreshingly juicy notes and marmalade sweetness. And the party's signature Sunshine State of Wine, an easy-drinking red. Whether you're headed off for a beach vacation or just hanging out in your own personal kiddie pool at home home, get ready to do some serious chillaxing with your friends.
Check out the list at the end of this post. Then, save yourself the trouble and get them all in one box. The Duplin Sunshine State of Wine Tasting Kit is only available for a limited time. Everything you need for a tasting party (wouldn't that be fun on family vacations this year!?!) is inside. No heading to the supermarket as soon as you drop off your luggage.
In addition to wines, you get frosty wine slushie mix! That writes "summer fun" all over the kit's tasting sheet. Make copies for friends to keep notes and then take home. Or show them where to download the tasting sheet right onto their phones. Use the video above to guide your tasting event, saving you the trouble of being super host.
Now, go text your crew, take a dip in the pool and relax.
How to taste wine like a Duplin pro
See. Swirl. Sniff. Sip. Savor. Use this 5-step system for each wine on the tasting sheet included in your kit. Here's how.
See: First, hold a glass of wine up to a light and look at the color. It will allude to the variety of grapes used and what the wine will taste like. Is it Scuppernong? Nobel? Carlos? Another? Color also indicates flavor. A bright, saturated hue often means a more intense flavor. See if you can guess the grape and flavor before you sip.
Swirl: Consider the wine's body next. Swirl the wine in your glass to determine if it is light or heavy. You're looking for the viscous streaks running down the side of the glass after you swirl. They're called "legs." Sweeter wines will leave streaks to cling or move slowly. That means a heavier body.
Sniff: After you swirl, really dip your nose into the glass and inhale the aroma, which wine pros call the "bouquet" or "nose." Pausing to experience the bouquet heightens your senses and anticipation of the first sip. Think about what you are smelling. Is it fruity? What kind of fruit? Berries? Ripe banana? Musky honeydew melon? Pure grape? Are you getting floral notes like honeysuckle or gardenia? See if you pick up unexpected smells like pine or fall leaves. Describe the bouquet and discuss it.
Sip: Take a sip slightly larger than normal and hold the wine in your mouth for 3-5 seconds. Let the wine coat the tongue and the inside of your mouth. Wine releases more flavors as it warms on your taste buds. Before swallowing, purse your lips and breathe in gently, allowing the air to travel across the wine in your mouth to get the full flavor profile.
Do the flavors you're experiencing match the wine's nose? When and where are you tasting those flavors? Are you getting, say, banana bread on the first sip and then astringency or acidity at the end, which is called "the finish." Where do flavors hit you? On the tongue? On the side of your mouth.
Think back to the wine's body. Compare the texture of different wines, how they feel in your mouth. Light as water or heavier, like the texture of sweet iced tea? If you're sampling a sparkling wine, do the bubbles feel fine or medium in size. Compare your experience to the wine's description and see if it matches.
Savor: As you continue sipping, note how the sensation is slightly different from what you experienced when the wine was resting in your mouth on the first sip. This is the point when you taste and feel the wine's finish. As you continue tasting, note how the wine pairs with the Duplin Gourmet crackers and Muscadine Pineapple Habenero dip. See which wine you like best with those snacks and others you may be enjoying during your at-home or virtual tasting. Cheers!
Now, let's begin your wine tasting!

Vivacious and sweet, with notes of honeysuckle and rose petals that tickle the nose. Perfect in flutes for celebrations. Equally delicious when it's just me-time at the beach. Delectable with charcuterie, chips, blackened salmon, pesto shrimp pasta, barbecue and spicy Thai, Indian or Mexican dishes.
Southern Mist is the second of Duplin's first-in-the-world muscadine-moscato blends. Now, wine lovers who like a little fizz get their own version of this unique white.

Be the center of attention when you bring Cotton Candy Lime Jell-O shots to a neighborhood barbecue. Citrusy, sweet-tart flavors rise through berries and spun vanilla for a truly unique wine. Refreshing on the rocks, Cotton Candy Lime is the go-to with chips, grilled or fried seafood, crisp salads or a big platter of french fries. Add sparkling lemonade, white rum, fresh mint and plenty of ice to Cotton Candy Lime for a tasty twist on the classic mojito.

Pelican Red combines mid-harvest muscadines with Pink Catawba grapes. Catawbas are a cross between Vitis Labrusca and the European cultivar Semillon. Native to France, Semillon is a golden, thin-skinned grape used in sweet and dry wines. Historians aren't sure who first crossed these two grapes, but early vines were said to have grown on a so-called "Rose Hill property" in Maryland.
With just 7% sugar, Pelican Red is mid-sweet with a smooth floral finish.

Windows down. Sunroof open. Destination vacation. No plans. No worries. Phone on silent. Ahh. This is Florida. Grab a glass and delight in the magically sweet Sunshine State of Wine. Anytime. Anywhere.

A wine to welcome Florida to the Duplin family as we celebrate the opening of our new location in Panama City Beach. Inspired by the place where warm, orange blossom breezes blow and summer never ends. Refreshingly juicy citrus notes and light marmalade sweetness sparkle in this finely carbonated wine.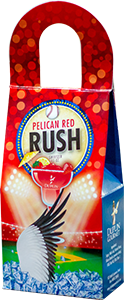 Sweet Rosé is incredibly refreshing with a delightfully crisp flavor. This blush enlivens your senses with its vibrant and fruity aroma. Each sip is one to be relished and shared with good company.
Muscadine grapes for this wine are pressed, cool-fermented, cold treated, blended, filtered and tested before the wine is carbonated.